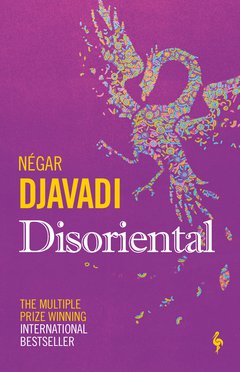 While literary prizes don't necessarily reflect the best of what's out there, when a book gets more than one nod, you begin to take notice, especially when online feedback has also been positive.  My latest read has been longlisted for the 2019 PEN America Translation Prize (with the shortlist to come) and was also a finalist for the 2018 (American) National Book Award in Translated Literature, so I came to it with high expectations, and (of course) a healthy hint of scepticism.  So, did it live up to the hype?  There's only one way to find out…
*****
Négar Djavadi's Disoriental (translated by Tina Kover, review copy courtesy of Europa Editions) is a story told by a young woman in Paris.  We start at a fertility clinic, where Kimiâ immediately outs herself as someone a little unusual.  In the midst of her description of the clinic, she makes a few claims distinguishing herself from the other people waiting patiently for their turn.  She's the only one sitting there alone, and, if we're to take her at her word, the only one there under false pretences.
However, this is just one side of the story, as Disoriental is actually more about where the young woman has come from than where she's heading.  Kimiâ is a young French woman with an Iranian background, and over the next three-hundred-plus pages we are to learn about a very special family and their experiences.  From the clinic to rural Iran, from Tehran to the Turkish border, there's a lot to see and plenty of people to meet.  Buckle in – it's going to be a bumpy ride.
Disoriental is an enjoyable and entertaining family drama, providing fascinating insights into Iranian history while focusing on the effects events have on one young woman.  At the core of her book are Kimiâ's parents, strong figures in turbulent times.  Her father, Darius, is a radical journalist, born to protest:
He could feel it in his muscles, in his eyelids, which ached with reflection and lack of sleep.  If he, the black sheep of two horrendously rich families, raised among people who cared nothing for the future, crammed with book-learning, a doctor of philosophy from the Sorbonne, didn't do it – didn't tear down the Empire's insolent red curtain to reveal the nauseating infection beneath – then who would?
pp.95/6 (Europa Editions, 2018)
He's unfortunate in that his honesty and inability to compromise make him a target for both sides.  The old and new regimes alike consider him a man who needs silencing, making his life in Tehran almost impossible.
It's lucky for him that his wife is such a willing partner in his endeavours.  Sara is just as passionate about the cause of freedom as her husband (and far more practical), bringing up their three daughters and supporting him whenever she can.  She eventually begins to develop her own voice, writing about atrocities at home and becoming involved in protests, before eventually lapsing into silence.  We know from the start of the book that she is now a broken woman – it's only later that we find out exactly why.
Of course, much of the story is about Kimiâ herself.  The narrative darts back and forth, describing her childhood, the strained relationship with her sisters, life in Paris and her various relationships.  She tells us of the many changes in her life and the way it has been affected by her parents' troubles and the move to Paris.  In particular, she frequently returns to the idea of growing up with two cultures:
The talkative, sociable child I used to be has turned into a Parisian adult with a face that closes off whenever I leave the house.  I have become – as I'm sure everyone does who has left his or her country – someone else.  Someone who has translated myself into other cultural codes. Firstly in order to survive, and then to go beyond survival and forge a future for myself.  And because it is generally acknowledged that something is lost in translation, it should come as no surprise that we have unlearned – at least partially – what we used to be, to make room for what we have become. (p.56)
These cultural differences are exacerbated by other issues she has to cope with in her personal life.  Not everyone accepts the choices she makes, and it isn't always easy to make people accept her for who she is.
The situation in Iran is a major focus of the book, with Djavadi taking us from the feudal settings of her great-grandfather's estate to the chaos of Tehran.  We experience Kimiâ's family life, with all the noise and lack of privacy this entails, but also the events occurring outside the family sphere, with protests on the streets and danger at every turn.  Iran isn't a country I know much about, so I was very interested to learn of its history, and Djavadi manages to weave in politics and culture without ever losing the thread of the family saga.
This command of structure is one of the strongest aspects of Disoriental.  From the start, our narrator explains:
All I know is that these pages won't be linear.  Talking about the present means I have to go deep into the past, to cross borders and scale mountains and go back to that lake so enormous they call it a sea.  I have to let myself be guided by the flow of images and free associations, the natural fits and starts, the hollows and bumps carved into my memories by time.  (p.14)
It's a good decision.  If the story was simply a chronological narrative, it would be nowhere near as effective.  The start dumps us in the fertility clinic, and the story only comes together gradually, despite the early mentions of Kimiâ's fertility issues and the shadowy occurrence she simply describes as THE EVENT.  According to the blurb, Djavadi is a screenwriter, and it shows, in a good way.  She skilfully organises her material, always maintaining the right amount of tension and interest, with very few flat spots over the course of the novel.
However, if I'm being cynical, I could argue that part of Disoriental's success comes from it hitting all the right buttons.  It's the kind of book people want to do well: fiction in translation from a female writer, a slightly exotic background and an emphasis on discovering your sexuality (it certainly seems like it would have been a fairly easy sell to publishers).  It's obviously a tale for those who don't know much about the topic, looking to educate as well as entertain, and the footnotes added avoid being too dry (Kimiâ tends to refer the reader to Wikipedia).  Again, the cynical reader might suspect a success owing more to good marketing than literary excellence.
Nevertheless, appealing to readers' good nature only gets you so far.  If the story is dull, the writing pedestrian and the structure weak, good will won't be enough to get them to read the book, and that's not the case here.  Disoriental is cleverly told, and Kimiâ's voice has the chatty, appealing tone of a storyteller (and a good one at that).  Djavadi has created a compelling story that combines the personal and political, introducing a fascinating character and telling us how she got to where she is.  Having read Disoriental for myself, I'm not surprised it's done so well, and I suspect it may well go on and gain even more recognition.  I wonder if the Man Booker International Prize judges will be taken with this one once their reading gets underway…